Sakura In World Art: Cherry Blossom Festival
When spring comes, the revival of nature begins with the blooming of flowers. Flowers are the jewels of nature, herald renewal. In Japanese culture, this awakening of nature is celebrated by turning into a festival. The "Cherry Blossom Festival" is a tradition that started more than a thousand years ago in Japan.
Hanami, which literally means "watching flowers" in Japanese, is exactly the name of the festival where cherry blossom trees are watched. Japanese cherry blossoms that begin to bloom at the end of March are called sakura zensen.
Hanami was first used in the Heian period novel "The Tale of Genji" as a similar term to watching cherry blossoms, later used solely to refer to watching cherry blossoms.
According to a legend, samurai who sacrificed their lives, would draw a picture of sakura and take it with them before going on their dangerous mission, which they thought was their last. Thus, during the war, they found the strength to remember the beauty of life and return, and they also remembered how untimely death was.
For many Japanese, the blooming of cherry blossoms symbolizes human life, mortality, and nobility. The falling of flowers standing on the branches symbolizes the timelessness of death. That's why flowers express the union of death and life in Japanese philosophy and literature.
Sakura, the cherry blossom tree, is believed to have links to Buddhism. That's why the Japanese turn it into a festival to celebrate the blooming of cherry blossom trees during the restricted bloom period, holding 'flower watching' parties known as Hanami. During the Hanami Festival, the Sakuramori work to ensure the longevity and healthy growth of the trees. Night trips to see the flowers are called Yozakura. In Yozakura, the beauty of flowers is also celebrated at night by using special street lighting and lighting paper lanterns.
These cherry blossom trees, which are unique to Japanese culture, have found their reflection for centuries in world art as an inspiration to many artists.
Andō Hiroshige, Watching the cherry blossoms in the Sumida River
For example, pink clouds and gnarled branches of cherry blossom trees are prominent depictions in woodblock prints by Japanese artists such as Utagawa Hiroshige and Katsushika Hokusai and Togaku.
When we look at contemporary Japanese art, we see that the subject is still lovingly portrayed. Miki Katoh's work has an important place in the tradition of bijinga or beautiful women's paintings. The figure in a detailed and elegant kimono frames the composition as white sakura petals fall like rain from above. Katoh often uses landscapes from historical or legendary Japan to place her work in a cultural context. In the background of this painting, an old car parked in front of the Kabukiza Theater in Amezakura, Ginza, reflects a nostalgic image of Tokyo's cherry blossom season.
One of Japan's most popular landscapes "Mount Fuji" rising among cherry blossoms, is depicted by Tokuriki Tomikichiro. Tomikichiro is a Japanese artist known for his prints in the shin hanga style, a 20th-century movement to revive woodblock printing using western techniques. For example, in this edition, Tokuriki omitted unnecessary details, leaving only the exuberant pink flowers in the face of the majesty of Mount Fuji's snow-capped peak.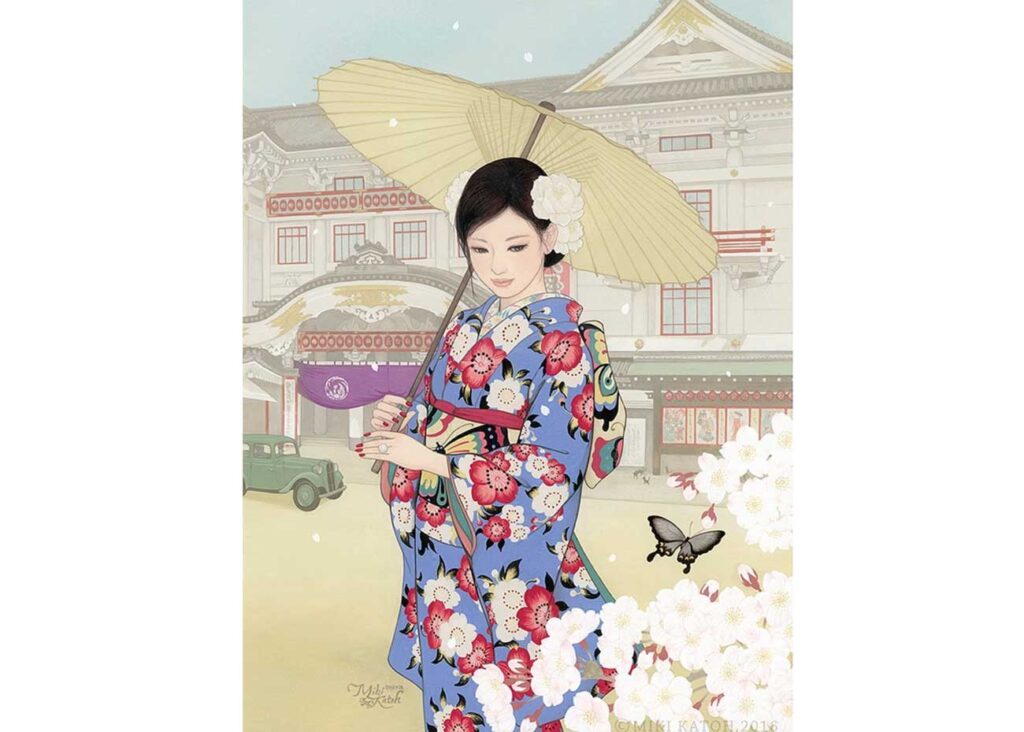 Tokuriki Tomikichiro, Fuji Mountain
Kitagawa Utamaro's painting on cherry blossoms also depicts a hanami moment when the cherry trees bloom. In this depiction, the ladies of the palace are enjoying flowers and having fun while celebrating hanami. This painting is also important in terms of showing the viewer how strong the tradition is.
Japanese artists' depiction of the blooming trees heralding the arrival of spring with vivid colors, influenced the painting styles of artists in Western art, led to the formation of the concept of Japanism. The term Japanism was first coined by Philippe Burty as a phenomenon.
Van Gogh, Almond Blossoms
Togaku, Turnalar ve Kiraz Çiçekleri
Van Gogh's famous work " Almond Blossoms" is one of the most iconic paintings of Japanism. This artwork features delicate, interlocking branches very similar to those seen in Togaku's painting "Cranes and Cherry Blossoms".
Cherry blossoms continue to influence Western artists in contemporary art as well. British artist Damien Hirst, whose exhibition titled "Cherry Blossoms" recently took place at the Fondation Cartier in Paris, is one of the artists influenced by this Japanese tradition.
Damien Hirst, Cherry Blossoms
Prepared by: Nazperi YILMAZ